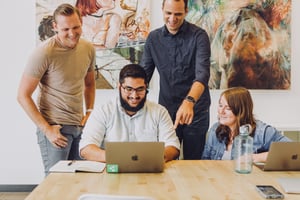 Only as strong
as our network
Over the years Oncore has built up a strong network of partnerships around the globe, and these alliances allow us to pass on great benefits to our clients and customers.
Australian Human Resources Institute
The Australian Human Resources Institute (AHRI) is the only Australian not-for-profit professional association for human resources professionals.

With 15,000 members AHRI represents a strong and powerful voice for the human resources profession nationally via government advocacy and media exposure and globally via its leadership role with the World Federations of People Management Associations.
APSCO
The Association of Professional Staffing Companies in Australia (APSCo Australia) (formerly ITCRA) was established to provide all companies involved in the recruitment and management of professional talent, who have a commitment to excellence, the specialist support and distinctive voice they need to be successful.
The Association gives candidates and employers a trusted, internationally recognised badge of quality whilst providing members with an innovative range of services designed for them by industry experts.
These services, combined with APSCo's growing international profile, popular range of recruitment events and market leading Professional Development programmes give APSCo members a unique opportunity to grow successful businesses and gain competitive advantage. APSCo represents members we respect in a profession we understand.
JobAdder
JobAdder's software is entirely cloud-based, giving recruiters complete freedom and mobility to work from any computer or mobile device, anywhere in the world. Growing rapidly, JobAdder is used by 8,000 recruiters and HR professionals in over 45 countries.
Used by employment agencies and in-house recruitment teams, JobAdder is a highly scalable, customizable, centralised recruitment platform that allows recruiters to organise and manage their recruitment process from job vacancy through to placement.
With offices in Australia, the UK and the US, JobAdder provides 24/7 live customer support via phone, email and LiveChat with friendly, experienced Customer Support Consultants. JobAdder is also incredibly affordable at just $99 per user, per month, all included, with no lock-in contracts.
Find out more about the improvements JobAdder can make to your business by visiting the JobAdder website.
NPA
For more than 50 years, NPAworldwide has been connecting independent global recruiting firms to facilitate split placements.
NPAworldwide is the oldest recruiter network of its kind.
NPAworldwide is the oldest recruiting network of its kind, with an international membership of recruiting firms located throughout Europe, Asia, Australia, Africa and the Americas.
myOE
myOE (my Overseas Experience) helps travelling professionals see the world, offering expert financial and support services to individuals living and working in the UK.

For skilled professionals wanting to turn their overseas experience into a great career move, myOE also offers a world-class contractor management service that guarantees more take-home pay in the UK.
Workpro
WorkPro is the smart HR tech streamlining all of your workforce compliance needs in one dashboard.
Administer background screening and medical checks, curate the perfect induction and learning program, collect, monitor, and manage licences, tickets and certifications easily and efficiently.
Streamline risk management and focus on people, not process. It's never been easier to manage candidate and staff compliance in one place, on demand.
Flare Cars
A novated lease is an arrangement between you, your employer and a financier for a period of time, between one to five years. You can still leave your employer during that time. If you do, you have the option to pay your car off, pay the financier directly or alternatively, you may be able to take the lease with you subject to your new employer's approval.
As an employee/Contractor of Oncore you have access to Flare Cars Novated Leasing.
Bupa
We are very excited to introduce our corporate health insurance partnership with Bupa!
This partnership provides Oncore employees and contractors with the ability to access health insurance via Bupa.
Here comes life. Be prepared for it with Bupa.
See why almost 4 million Australians choose Bupa — Canstar's Outstanding Value Health Insurance for 2022.
Shazamme
Shazamme's cutting edge recruitment agency technology & recruiting tools will help your recruitment strategy reach new heights.
The Shazamme platform allows anyone to rapidly edit and maintain their recruitment website. It's so easy anyone can evolve, integrate and update their recruitment website.
If you're interested in talking to us about our Partnership Program, please contact us.
By maintaining connections with the industries we work in, we can ensure we always have our finger on the pulse when it comes to market trends, as well as changes in legislation and compliance issues around contractor payroll. Partnering with Oncore is an opportunity to connect with and deliver leading solutions to professional contractors, recruiters and corporates across the marketplace.