We notice Options Consulting Group is not your typical recruitment agency – What is the Options Consulting Group business model
Options Consulting Group is a HR Solutions business built over 30 years. We strive to be thought leaders in matters concerning organisation performance. OCG's mission is to assist business to realise their full potential and facilitate growth. Our consultative approach is trusted long-term business partner through delivering processes and outcomes to address the needs of all stakeholders.
What type of clients do you work with and what type of roles do you place? (industry)
We have a diverse portfolio of clients from multinationals to start ups mainly in the Manufacturing, Construction, FMCG, Energy, Pharmaceutical, Engineering and I.T. space. We recruit across Executive, Finance, Logistics, Sales, Marketing, Engineering, Operations and administration.
Why did you start OCG and what was your background?
I spent 35 years in consulting, based on my experience in General Management roles in Manufacturing and Construction. I started OCG during the 1990 recession recognising people as the sustainable advantage for all business and to be a solutions provider – differentiating our business model from the typical agency. 30 years on and we are now advising businesses on the strategy and value of a balanced workforce, emerging leaders development and organisational culture. Our interim Solutions/Oncore relationship is hugely constructive in delivering this strategy
What do you see as the biggest challenge or opportunity for clients who are managing a flexible workforce? 
The challenge is to move away from crisis/needs actions and adopt a strategic approach to balancing a fixed and interim workforce. We are specifically addressing small to mid-size companies needs and focused on delivering interim Executive, Professional, Technical and Administration roles. This approach will maintain business productivity through planned events, allowing the organisation to deliver strategic key initiatives and projects on time, to budget. The key to successfully executing this strategic approach is to partner with an organisation like us that has talent mapping, candidate qualification/validation, diary and roster management processes and expertise.
How are you at Options Consulting able to assist companies with their contingent workforce? 
At the initial stage of job briefing, we advise the client on the most appropriate hiring strategy – this may include workforce planning and alignment to strategy to ensure that a project is delivered.
We believe in mitigating employment, tax, insurance and workover liabilities by acting as the 3rd party provider. Oncore allows us to provide a seamless time and payroll administration process. We manage contractor performance from on-boarding to off-boarding ensuring the satisfactory completion of all deliverables supported by Human resource specialists who can advise businesses on broad Employment/Human Resources matters. We also have the capability to deliver vendor management expertise to consolidate, reduce, rationalise, align multiple suppliers.
What do you value in your partnership with us at Oncore?
Options Consulting Group has partnered with Oncore for over 7 years. The relationship has proven hassle-free, efficient and well supported by the Oncore team, right throughout the company. Importantly our contractors also enjoy the efficient Oncore processes and friendly, accessible support.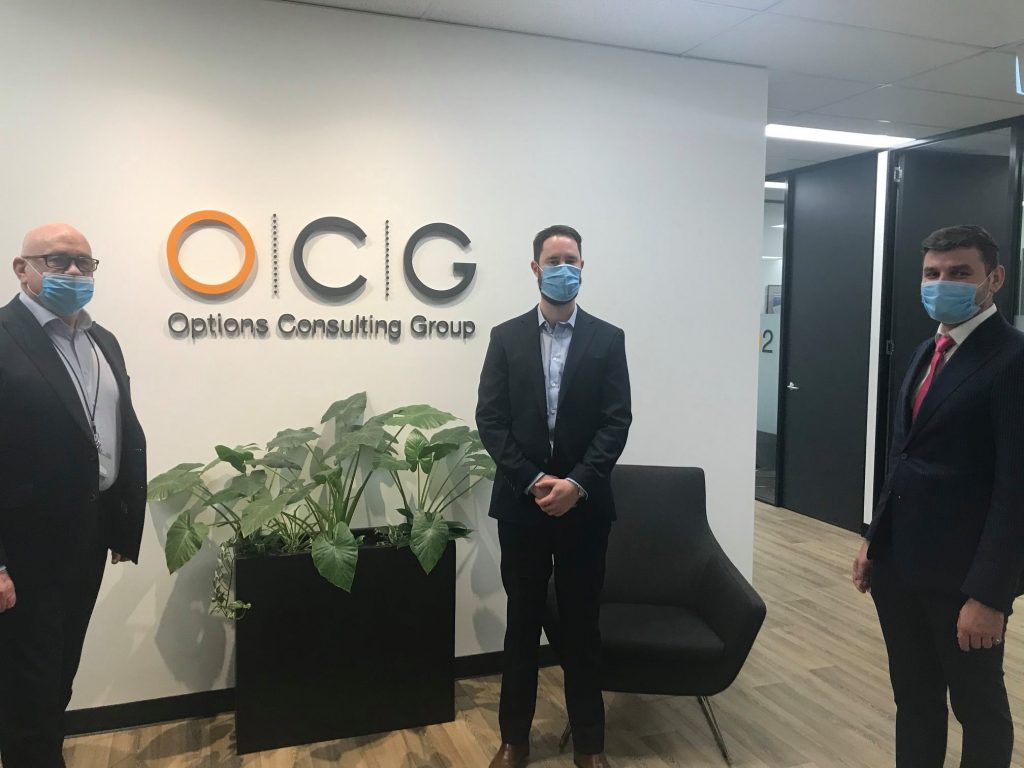 Options Consulting Group staff in the office
Your office is in VIC which has now gone into further lockdown – what is your take on the current situation? How will this impact the market?
Where there is crisis and confusion there is energy and energy sparks creativity and this leads onto opportunity. Our team has embraced the changing environment and is motivated to stay connected and involved. Current conditions are tough but not impossible and there are many segments of industry currently experiencing better than budget trading performance.
The real positive from the pandemic is a return to a focus on matters in the national interest by Federal and State Governments, review of supply chain dependency, a willingness to challenge the usual business process "norms" and work arrangements – although this will drive a sharper focus on job performance. Also on the current national agenda is tax and labour reform. I'm very excited by the potential opportunities this potent mix will produce as we emerge from the Coronavirus pandemic.
What's your view on the 'future of work?'
Future of work is all about agility and flexibility, access to skills when needed, willingness and attraction of people to adopt a "portfolio management" approach to employment rather than a traditional interdependent employer/employee relationship, willingness to embrace continual innovation in processes and thinking. Many jobs we now know will disappear and new roles will evolve. The workforce will decentralise, this will only make the contractor workforce grow and the need to have people in your business on a permanent basis will reduce. Contractors will be known for their skills and businesses will move to a project mentality, enabling scale up and down as need. The pandemic will accelerate a general willingness and opportunity by all parties to embrace this approach.
How are Options Consulting responding to the crisis and do you have any key learnings or takeaways you can share?
We're working hard on maintaining team social and business contact on a daily basis – using techniques ranging from starting the day with a brain-teaser hook-up session through to skills development and product awareness training. We have also maintained a very active and visible marketing communications strategy along with process improvement initiatives. In other words, we're working on the business to ensure we're at the front of the wave when economic conditions start to improve – and they will!
Our Key learnings are the same as for the 1990 recession, 2000 Millennium Bug, 2007 – 2009 GFC and 2020 COVID-19. They are:
Focus on providing support to others
Focus on improving your own processes
Seek opportunities to differentiate your service
Listen and Learn
Stay optimistic and focused
Be thankful you always have the opportunity to make things happen
Don't be swayed by doomsayers
Plan you day, execute your daily plan
Have a full productive day – then switch off
If you'd like to reach out to John or the team at OCG you can visit their website here.