We focus this week on one of our recruiter clients who inspires us every day with the amazing work and support she offers to the recruitment industry, particularly now with the huge economic disruption of Covid-19.
We all know someone who has been affected by job loss or uncertainty due to Covid. Yvonne made it her mission to address this challenge head-on and had an amazing idea to reach out and make a real difference for those who are feeling stressed, uncertain or seeking inspiration for their careers in these challenging times.
"I thought it would be so wonderful to build an inclusive virtual event for those people who are looking for work or wanting to make a change"
This idea blossomed into the most amazing free virtual learning event, in partnership with Cisco, and hosted by a panel of over 40 of Australia's top motivational speakers.
Industry experts, including Anton Enus, Layne Beachley and Craig Foster, shared their personal inspiring stories and career advice, offering practical ways of overcoming the many obstacles this pandemic has relentlessly created.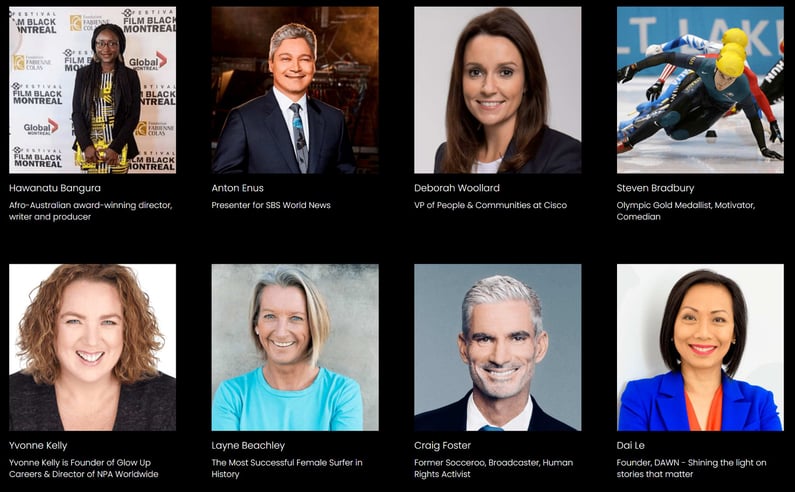 Yvonne's motivation
Yvonne is the Founder of Glow Up Careers & Director of NPA Worldwide, the world's largest independent recruitment network.
For over 20 years, Yvonne has helped thousands of people find their niche, supported their development and helped them find their next career move and role. She didn't originally set out to do this; in fact, when Yvonne was much younger, she wanted to be either a Nurse or an Accountant. However, Yvonne's love for meeting new people and passion for finding out what makes them tick instead led her to the Recruitment Industry – where she has remained passionate about it ever since.
After a challenging time with their job search themselves when Yvonne and her husband moved briefly from Australia back to her homeland Ireland – they made a pact that they never wanted job seekers to be treated in the way that they had been in their time of need. Over time they have built up a hugely successful inclusive business that encourages, empowers and supports everyone to be in charge of managing their own career path.
Yvonne says "I love recruitment but found that often I met candidates who had been on the job market a while, didn't have a lot of confidence or were overwhelmed by the job search process. I thought it would be amazing to support candidates further in their job search, especially those who were finding it tough".
Diversity and inclusion
One of Yvonne's main focuses is empowering the people that need it most to have their best career – promoting diversity and inclusion in the workplace. She is proud to support a number of refugee organisations and institutions with job-ready programs offering one on one coaching based on the current challenging job market.
They have received such amazing feedback from the refugee organisations that they engage with and over 90 refugees have already successfully completed their pro-bono programs since June 2019. Yvonne was delighted to report that "The feedback is that participants are much clearer on what they need to do to get a job, their networks are expanding, confidence has increased, and they are getting job offers".
Recently, Glow Up Careers was named as a finalist in APSCo Australia's Awards for Excellence – in the category Corporate Social Responsibility Initiative of the Year.
Winners will be announced on November 26th 2020.
Partnership
Oncore is very proud to be partnered up with Yvonne Kelly and support all the amazing work that she does for the Australian community and beyond in these difficult times. She has been a great fountain of knowledge and support for our own Contractor Community, which we are very grateful for.
If you want to know more about Yvonne and the amazing work that she does then you can find her here on Linkedin Yvonne Kelly
The full series of sessions for the event – BridgingCareers – presented in partnership with Cisco, are available to watch entirely free, online – by registering here:
Or if you would like to listen to the recent "How to Boost your Contracting Career" Webinar we ran with Yvonne on navigating the challenging contractor job market during these economically unstable times then Click here to watch on replay