Oncore launches a brand refresh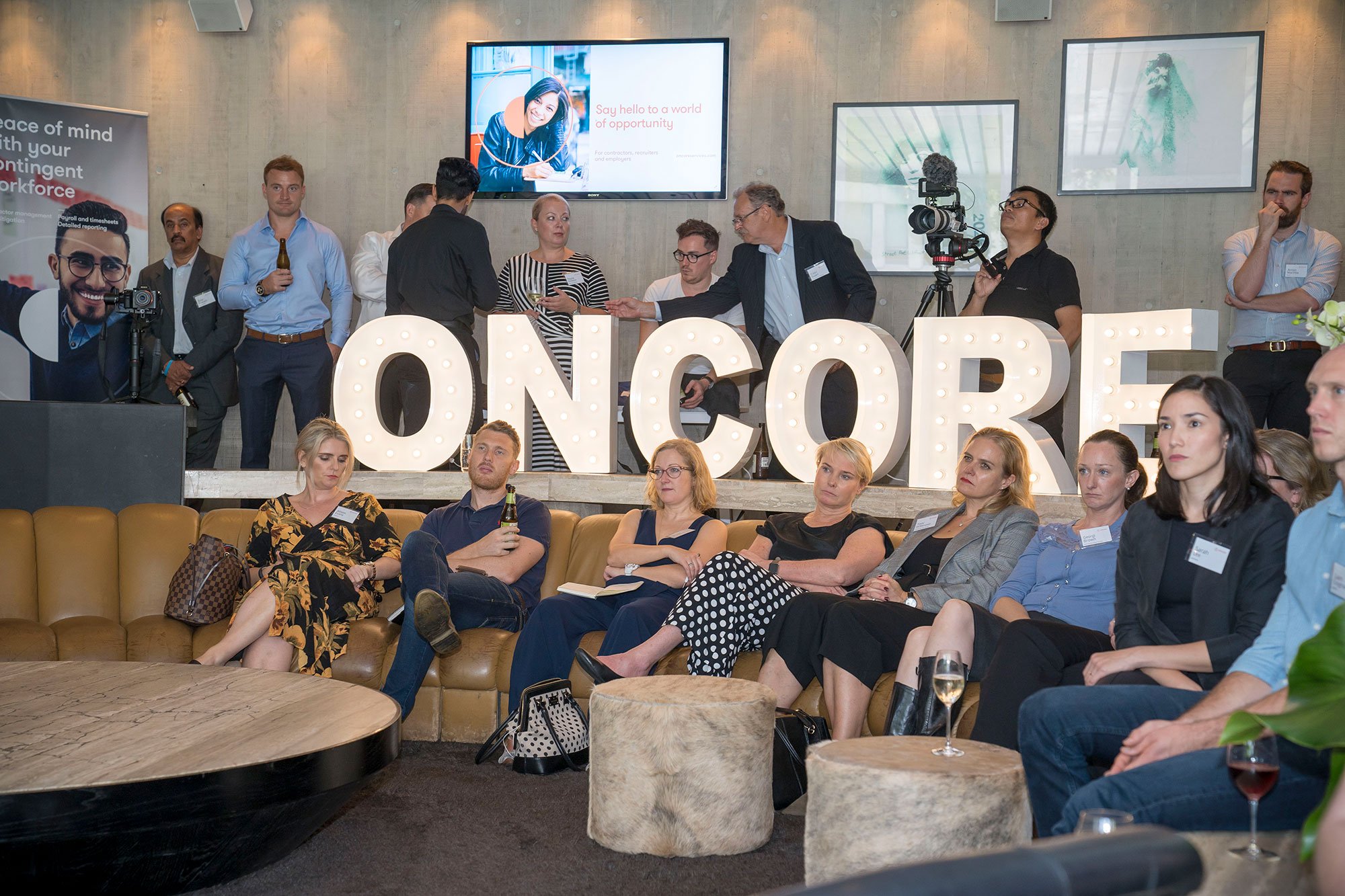 Earlier this year, Oncore launched a full rebrand across all of our channels, which also included a brand new website. We're very happy with the results and thankful for our clients who have followed us and supported us along this journey.
We'd like to kick off this blog by answering a question most people wonder following a rebrand: Why?
Just like our new design, the answer is simple; the working world is changing.
We are seeing a growth in professional contracting as work and life become more fluid than ever. "Globally 25–30% of the workforce is currently involved in 'contingent work' – a number which will exceed 40% by 2020." – Forbes. Whether you are an employer, a recruitment agency, a freelancer or a contractor this new trend towards a flexible workforce opens up a world of opportunity.
As a company that has long offered a simplified experience in the technology and financial services industry, we saw that our branding no longer represented the innovative solutions and services we provide – it was time to better reflect this in our new design and messaging.
Continue reading to learn how our team undertook this rebrand project and the key steps to make it a success.
The future of global brands
It's 2019 and technology is continuing to advance at a colossal rate. Hand in hand with this growth comes an exploding number of new IT start-ups. Many companies such as AirBnB, Uber and Canva have started humbly and grown rapidly in the past 5-10 years, achieving immense success and creating new markets in the process. One of the keys to their success – aside from their easy-to-use technology and problem-solving business purpose – is the visibility and ubiquity of their brands.
In today's online era, businesses need to take out the complexity in their messaging and offer a consistent experience across all platforms. With new software companies starting up like wildfire, ensuring your brand is easily identifiable is the key to success.
Our customers have told us they choose Oncore because we're easy to use — offering a simple experience covering everything from payroll management to onboarding and contractor administration and care. Our mission is to enable and inspire the global workforce, forging genuine partnerships with our customers to the benefit of their business. It's this vision that underlies our new rebrand.
The story behind Oncore
Before Oncore, our founder and Executive Director Brenton Henderson, was working as an IT professional when he was given the chance to take up a contract position in the United Kingdom. Needless to say, he decided to give it a go, and it didn't take him long to fall in love with the contractor lifestyle.
"I loved the freedom and flexibility it gave me to work how I wanted. I could travel when I wanted – I could go where the work took me. I could plan my life around my own schedule" – Brenton.
But that's not to say it wasn't without its issues; specifically, the complexity in getting paid and managing the paperwork and taxes correctly. Like many contractors, Brenton found this a hassle at times, but he couldn't find a reliable system that made it easy.
Given his extensive IT background, Brenton decided to build his own software, which quickly allowed him to recognise a need in the industry not just for himself, but for other contractors. And with this realisation, Oncore was born.
"My goal wasn't just to make the payroll side of things easy, but to take away the fear and hassle that anyone might have about contracting. I want everyone to experience the benefits that contracting can provide ." – Brenton.
Simplifying the contractor experience – then and now
It's been twenty years since Brenton founded Oncore, and since then we've kept our mission of making professional life easy for contractors at the centre of every decision we make. And in doing so, we've been able to find ways to simplify the administration and back-office functions for recruiters and corporations who hire contractors here and around the world.
Our commitment has always been to take away the pain points of contracting, so both contractors and their clients can reap the benefits – and our rebrand is a reflection of that commitment.
1. We started with rediscovering our reason for being, as a company.
It's so important to understand how and why your business was built in the first place before deciding your future direction. Do these values hold strong and will they be able to propel you into the next 20 years? Once we were able to distil the 'Why' for us, we could form our values.
2. Every business needs to have Core Values
We involved all our staff in an initial brand survey, and then followed up with a values workshop where they had the opportunity to have their input. The key to successfully implementing change in any organisation is to have everyone's involvement from the beginning. At Oncore, our greatest asset is our people, and our people drive our culture. So our core values were vetted by the team internally and agreed on before we built the strategic plan for change.
3. Strategy
The key to successful branding is understanding the strategic direction and goals of the company. We're lucky to have Oncore's founder playing an active role in the business and injecting his 'why' into everything we do. Our brand is not just about a logo, or getting a new look. It's about communicating our promise in a clear and deliberate manner. It has served as a catalyst to the forming of our strategic plans, to be forward thinking, and customer focussed.
4. Launching the brand to our clients
We did this through a conscious effort to bring our clients together on a brand-launch roadshow that included an upscale 'lunch and learn' at Collins Quarters in Melbourne. Here we presented the brand as a sneak peek before the public launch along with a keynote from Adam Walker of Deloitte Australia about the 2020 Workforce.
We followed up with a special invitation-only launch party in Sydney at the exclusive Ivy Penthouse where our keynote presenter Chris Long spoke about the transformation of recruitment and technology. Our final brand roadshow destination was Brisbane, where Oncore first began and has since grown into a multi-million dollar company. This was essentially an official Oncore launch party with clients, partners and contractors all invited to share the journey with us.
Why did we choose this method? We would not be here today without the support of many of our long-standing clients and partners. Some have been there since our inception and others have joined recently and helped us inject a new spirit into our future. Some contractors attended who had stayed with us for 15 years. So it is a testament to their success as much as ours.
Click here to see our event gallery
What's next for Oncore?
Oncore has been a market leader in the contracting and payrolling space for over two decades. Our rebrand was completed to ensure we remain true to our original purpose while staying ahead of new trends in the market. We have since launched a brand new website and are currently rolling out a timesheeting app for contractors and a new portal dashboard for clients.
We'll continue to support our customers, new and existing, and look forward to what the future will bring. If you want to learn more about Oncore and the services we offer, please don't hesitate to contact our friendly team.