Oncore not only had the pleasure of recently attending the APSCo Australia Awards for Excellence, but in sponsoring one of the key categories.
The APSCO Individual Award for Risk & Compliance recognises an individual who has demonstrated a commitment to ensuring their company accesses the tools and resources APSCo has to offer to guarantee quality practice across the company.
Oncore was delighted to be able to sponsor not just an important award, but one that aligns closely with our business' vision. We see our role as a partner to our clients in everything, helping them achieve their goals in the most effective and efficient way possible. Compliance and risk management naturally factors into this, and the delivery of ongoing education and guidance around this space is a key part of what makes our relationships with our partners so strong.
In that spirit, we were overjoyed to see the award go to an extremely deserving individual. Kate Conrad is the Business Solutions Manager at Davidson Recruitment, a respected Australian recruitment agency with three decades of experience in serving the national business community.
A forward-thinking organisation with a progressive outlook on the industry, Davidson is constantly seeking ways in which it can deliver a better experience for its corporate clients and its talent pool, connecting the right person with the right role. As part of this, they embarked on a process of partnering their business with iSafe, helping them streamline the process of conducting health and safety assessments at host client sites.
Kate spearheaded the integration of iSafe at Davidson, helping them put the right talent in the right role even faster. Oncore caught up with Kate to talk about what iSafe means for the recruitment industry, why the work she does is so vital, and how your business can better manage risk in its own market.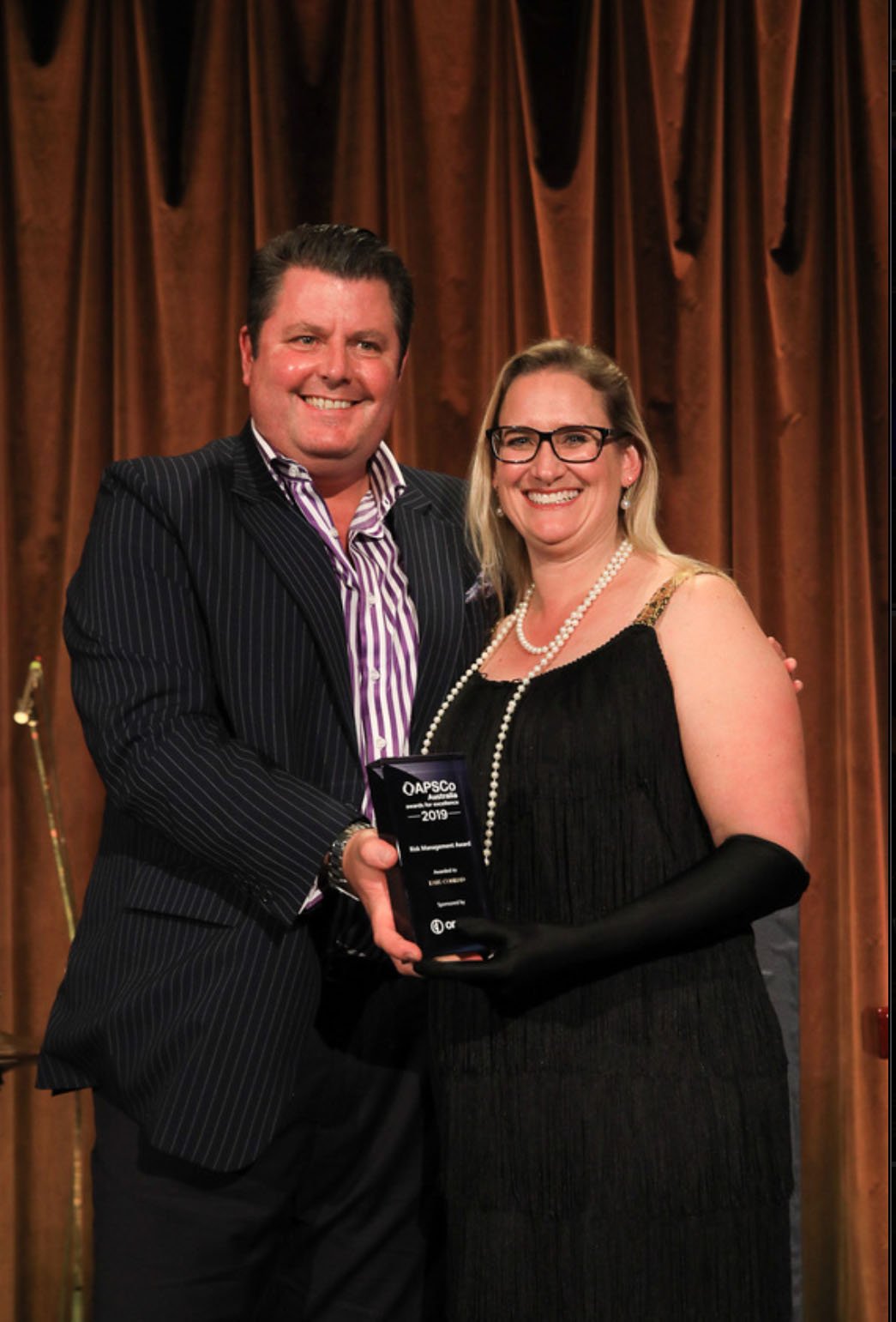 Introducing Kate – a leader in risk and compliance
Kate Conrad has been with Davidson Recruitment for more than 13 years. Beginning as a contractor herself, she moved into Recruitment Coordination for the accounting team before taking a turn at consulting. At every step and in every role, she found herself looking for ways she could help people, leading to her eventually accepting an offer by the Client Services Director to join the client management team, where she relished the opportunity to work even closer with people in a great support team.
"And then it was time to have kids," said Kate.
That change led to her exploring different ways that she could help people achieve their full potential.
Business Solutions was the perfect role for Kate – people-focused but also relies on a lot of problem solving. It allowed her to work across the business, supporting a diverse range of departments.
"I do all the weekly reporting for all of our WHS and risk contractors, it means a lot of harassing people to make sure client sites are up to standard," she said.
It was in this role that Kate got to grips with iSafe, the reason why she's won 2019's APSCO Individual Award for Risk & Compliance.

What is iSafe?
iSafe is a revolutionary approach to bridging the gap between recruitment agencies and their clients. Under workplace health and safety laws, both the recruiter and the host client share responsibility for ensuring that the employee or contractor is working in a safe environment.
Previously, if Davidson Recruitment was placing talent at a company they hadn't had anyone on before, the consultant was responsible for getting a WHS contact who would then conduct the safety risk assessment. Kate pointed out that this system – while well-meaning – often meant that non-experts were conducting a vital WHS process.
"There's that risk that if you're sending someone in there who doesn't know what they're looking for, you're actually put more onus on the business," she said.
Instead, Davidson Recruitment uses iSafe. iSafe not only has WHS experts on staff who understand the impact of the legislation, they also maintain a database of host clients, meaning recruiters may not even need to order an inspection. Should Davidson place talent at a host client that was previously subject to an iSafe inspection, Davidson can access the report from that inspection instead of requiring a new one, greatly cutting the time before the contractor can get to work.
It's also attractive to host clients, who benefit from having an expert on site.
"iSafe give us and the host client a report, and the client can use that to improve their own systems," she said.
"It's a free health check on safety from the client's perspective."
How you can minimise risk in the workplace
Knowing what to do is valuable, knowing how to do it is even better.
Risk management and regulatory compliance is something most businesses struggle to get right, and with good reason. With constantly shifting industry and legal requirements and a dynamic environment, hitting that moving target is hard for even the most driven, intelligent organisations.
Kate's advice to businesses looking to make their workplace safer and more compliant was to get excited about it – that passion for safer workplaces will mean you're taking an active approach that addresses issues before they become problems, rather than reacting to changes in legislation.
One example that Kate gave from her own life was Davidson's own efforts to get on top of new requirements around data breaches.
"Our lawyer and I sat down and put together a process map outlining everything that needs to be done to get us to compliance," she said.
Her goal at this stage was to chart the shortest, fastest route to full compliance for Davidson, and that drive for simplicity was what she believed to be of utmost importance.
"I like improving things. I like to simplify things and make them easier for everyone," she said.
The work is paying off, Davidson is set to be audited against the new notifiable privacy breaches legislation later this year, and Kate is confident that they will pass with flying colours.
If your business is struggling to get its head around new regulatory requirements, we're here to help. Contact Oncore today on 1300 654 484 and one of our staff will be happy to help.